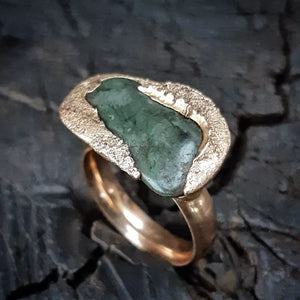 Using the ancient technique of sandcasting we poured molten bronze around Pounamu to create this one-of-a-kind Pounamu Pebble Ring.

Inspired by the rings of the Medieval Period. Gemstones were endowed with mystical abilities, some medicinal and others representing virtues.
Pounamu is Protective 💚
Style: Pounamu River Pebble Ring
Materials: Bronze, Pounamu from Nelson, New Zealand.
Process: Sandcast in Delft Clay
Size: P / 7¾  
Width: 5mm
Date: 2022
We are not able to resize this ring so please ensure it is the correct size before you buy.
⚔️
If you would like to purchase this piece but live outside of New Zealand or Australia, please contact us directly to discuss your international shipping options. Thank you!