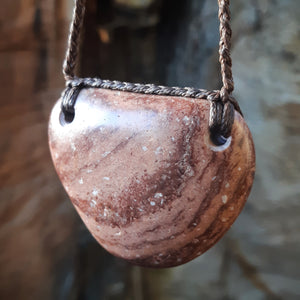 We found the beautiful beach pebble for this pendant at our favourite Wairarapa fossicking spot in the lower North Island of New Zealand, Aotearoa.

We tumbled it in a batch of local stones in our rock tumbler for several weeks in silicon carbide, changing the grits weekly through to a high polish.
Holes drilled by Benjamin and bound with waxed braid by Marisa with slip knots making the pendant easily adjustable in length.

Size: 50mm at its widest point.
⚔️
If you would like to purchase this piece but live outside of New Zealand or Australia, please contact us directly to discuss your international shipping options. Thank you!